The Irish are well used to looking overseas, casting eyes toward far off coastlines, be it in search of adventure or simply a living. Similarly, seekers of musical stimulation have long drooled over the lineups gifted to our continental cousins and stateside miscreants. Emulating the Wild Geese, many Irish have left on campaigns of catching must-see acts, splashing the cash to hit some of the most obscure festivals worldwide that boast better and better lineups year on year.
As such, the earliest whispers of hands at work at what would eventually become Unconquered Darkness sent ripples through those with their ears to the ground in terms of contemporary death metal. It was obvious from the outset that veteran Irish label Invictus Productions working alongside the endlessly impressive Dark Descent Records could only produce good things - and as was to be seen, it was a collaboration that certainly delivered.
Unable to catch Friday's burnt offerings to the void, the weekend's fruits were lined up for consumption. All in moderation, of course.
Saturday's second act, Sweden's Head of the Demon worked well as an intro to the more intense acts that followed in their wake, employing repetitive, hypnotic mid-tempo grooves that told of a definite, bass-heavy Mercyful Fate heritage with just enough dissonance to push it into more contemporary, occult rock-focused arenas.
Almost the exact antithesis, Qrixkuor, a consistently spell-binding and improving live act, unleashed wave after wave of labyrinthine, atmosphere-soaked, blasting death metal. Their cacophony is endless, working its way around the Voodoo Lounge's long lamented pillars and generally disappointing acoustics, but the delivery allows it all seem fitting. It's meant to be filthy. The band utilised the significance of April 30th as Walpurgisnacht to release their most recent EP, 'Three Devils Dance', via Invictus Productions.
Qrixkuor - 'Three Devils Dance' EP
The ultimate wind down, of sorts, Qrixkuor's follow up (in the uninspiring guise of Anguish) plodded through a set of tedious doom metal that sent most shuffling to the bar for top ups and into the smoking area for better conversation. It somehow failed to fit and while doom metal's general vibe is often one of dejection, a fairly lacklustre stage presence and presentation did the band no favours.
Local favourites Zom blew any cobwebs that had formed well away with their trademark punk attitude-infused black/death metal racket, easily showing some of the more established acts how it's done. Passionate, uncompromising, and most importantly: enjoyable. Yet another act that seem to improve every time they take to a stage, and rumour had it the band hadn't rehearsed in some time. Some bands simply have that magic.
Alongside Zom, Belgium's Possession helped to further set the tone for the potency that was primed to be unleashed across the final few acts of Saturday night. Though only catching their last couple offerings, a mix of wild guitar work, intense percussion and howling vocals, the venue was shook and a mixture of nods and beaming faces, once instruments were downed, told of a sold crowd, pumped for what the remainder of the evening would deliver.
Adversarial's brand of wide-shouldered, aggressive US death metal had most rooted to their spot for the length of their performance. Razor-sharp, jarring riff work, a commanding frontman and an incredibly unrelenting stint from their drummer impressed all no end.
A definite highlight of the weekend, Lvcifyre were the perfect accompaniment to label mates Adversarial's barrage, though sounded more technical and textured, even amid the now constant discordant hum that reverberated around the venue. This lent the band an emphatic and memorable presence as they hammered through twisting track after twisting track. As with most worthwhile situations, it was all over far too quickly.
Closing the evening on a high, veteran act Morpheus Descends pushed through the lingering din left by the previous two bands with crisp, punctuated, classic death metal that was both atmospheric and brought with it welcome tempo variations. A lively, tight set, devoid of some of the more debatable 'hoods up, wall of sound' trappings of contemporary death metal, there was a definite sense of "this is how it is done".
Sunday's zealots, nursing hangovers or simply continuing their Saturday nights, rolled into the venue on time for one of the fest's biggest and most entertaining draws. Slovakia's Malokarpatan set chins wagging last year (and well into 2016) with their debut full-length offering, a quirky mixture of Slovakian folklore, primal black metal and a 'worn on the sleeve' heavy metal heritage. They rolled into their set with gusto while bathed in red light and easily awakened the venue.
Malokarpatan
Their frontman, Temnohor, enthralled the majority. Despite toe-tapping song after toe-tapping song, he remained quite static throughout the set. Clutching a tinned beverage and expressionless behind aviator sunglasses, he did nothing but emit wails, croaks and snarls, as well as utterances in his native tongue between some numbers. However, it worked perfectly, adding to their generally quirky nature and 'band from another time' bearing, playing on against the wishes of the sound man and then ending abruptly to return to wherever they'd stashed their time machine. A brilliantly bizarre set.
The great interaction between attendees that the fest effortlessly fostered continued on the Sunday afternoon. With the hum of distortion as ambience, the staccato of multiple accents, guffaws and the recognisable click of cigarette lighters formed the true soundtrack of the Unconquered Darkness weekend. With the risk of drifting into saccharine, United Colors of Benetton nonsense, it was the concept of music as a 'universal language' in action, even if us Irish were thin on the ground. To have devotees of underground music travel to Ireland from far and wide, inspired by such a lineup, is excellent in itself.
Drawing us toward the evening and Sunday's headlining acts, Antiversum launched into an unapologetic black/death metal maelstrom, creating that total vacuum heard on 2015's noteworthy EP. Sounding close to Antaeus at times, the band was probably the most black metal of the fest, at least in contemporary terms; detached yet devoted, and thoroughly impressive.
Scotland's Ellorsith stepped up with ease next. An intriguing act, their naturally frosty, insistent black metal sounding somewhat more polished than what Antiversum had just offered, these two acts did feel like the resident black metal delegates, but obviously no one was complaining. Yet another impressive performance and another step toward a building intensity.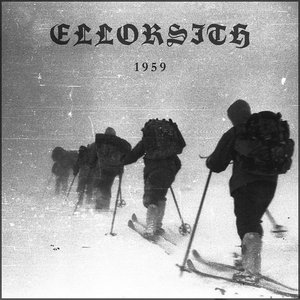 Ellorsith - '1959' EP
Sepulchral death metal masters She'ol added to Sunday's wall of sound with a stirring set of mouldy, well-paced total death worship, each member wholly comfortable behind their instruments and focused on the creation of some of the finest death metal emanating from UK soil of late.
Yet another draw, Finland's Lantern were quickly acknowledged as a veritable highlight by the majority in attendance. A set full of pulsing energy and pensive presence, Lantern's output was visceral yet suitably dusty and capacious, riffs twisting here, there and everywhere. Seriously good and very memorable. 2013's 'Below' is highly recommended
More Finnish genius rattled bones in the form of Krypts. An intense, zero blather affair that brought with it a truly tangible heaviness and hanging, oppressive atmosphere; tempos chopped and changed without once losing the band's inherently unhinged quality. A possessed performance.
Krypts
Sunday's final act wrapped up proceedings in the most suitable fashion with a tribute of utterly blistering death metal. Closing the unholy Finnish triangle, Corpsessed, though last on stage for the whole fest, delivered unreal, seemingly insatiable energy as they pummeled through song after song. The vocal performance must be pinpointed here, being incredibly audible and pronounced amid the clashing instrumentation on display. A powerful end to a powerful, landmark weekend.
Speaking to Darragh (of Invictus Productions) at various points over the course of the fest, conversation invariably turned to attendance. "Where are all the Irish?" The hordes that emerged for the likes of Diocletian and Witchrist in 2010 were nowhere to be seen. Surely Unconquered Darkness would attract similar clientele? "Maybe this kind of thing simply isn't cool to people currently?"
Obviously, the hanging question here is, was it ever? Many of these acts are as niche as it comes, these gigs draw all the same faces, the usual underground stalwarts, plus competing with more mainstream events in Dublin over the May bank holiday weekend is no easy feat.
Despite debates surrounding turnout and the various reasons why such a fest boasting such a lineup didn't pack out the Voodoo Lounge (a pretty small venue, in truth), consensus speaks of a successful, satisfying event, and one thoroughly appreciated by those that did show up, be they local or otherwise. Kudos to Darragh and Matt (of Dark Descent Records) for organising and pushing through Unconquered Darkness right to the bitter end and many thanks to all the bands, helpers, participants, Voodoo Lounge management/staff and attendees for making it what it was. Here's to the next instalment.